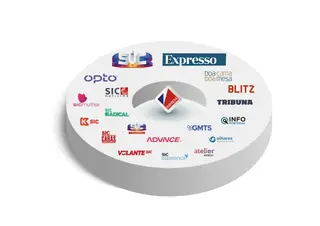 Our history

IMPRESA was born with Expresso, it grew with SIC and today it's a universe. Every day, it produces 8 channels (SIC, SIC Internacional, SIC Notícias, SIC Radical, SIC Mulher, SIC K, SIC Caras, Txillo) and the country's largest newspaper, the Expresso, leader in sales.
In 2018, over 4 million viewers in Portugal made contact with SIC. SIC's thematic channels were, among the groups of Portuguese channels, the most viewed in 2018. Every day, roughly 2 million and 300 thousand viewers, watched SIC Notícias, SIC Radical, SIC Mulher, SIC Caras and SIC K.
In 2018, the Expresso was the most sold newspaper in Portugal, with an average of over 86 thousand copies. In paid digital subscriptions, the Expresso is also the leader among generalist daily and weekly newspapers.
The IMPRESA Group websites receive an average of 20 million views per month.
The IMPRESA Group is the Portuguese media group with the highest number of television channels broadcasting abroad: 7.
SIC Internacional reaches 10 million viewers all over the world through cable, satellite and IPTV. The channel is broadcast in France, Switzerland, Luxembourg, Belgium, Andorra, United Kingdom, Germany, USA, Canada, Brazil, Australia, Mozambique, South Africa, Angola and Cape Verde.
SIC Notícias is present in France, Andorra, Switzerland, Luxembourg, USA, Canada, Mozambique, Angola and Cape Verde. SIC Mulher and SIC K are seen in Angola, Mozambique and Cape Verde, and SIC Radical, SIC Caras and Txillo are present in Angola and Mozambique, exclusively in the latter.
In total, SIC channels reach 15 countries, through 36 operators.
IMPRESA TIMELINE
1972
Francisco Pinto Balsemão creates Sojornal, the seed of what the IMPRESA Group is today.
1973
On January 6th, the Expresso newspaper is founded, immediately becoming a reference in Portuguese society.
1975
VASP is founded to distribute the Expresso.
1984
On November 6th, the Blitz newspaper is born, dedicated to the musical universe.
1987
The Pessoa Prize is launched, an Expresso initiative, aimed at rewarding the creativity of Portuguese people who had a significant role in the country's cultural and scientific life.
1988
Controljornal is formed in April of 1988 to be the holding company of all the media group leaded by Francisco Pinto Balsemão, assembling the several holdings possessed by the group.
1987
The Pessoa Prize is launched, an Expresso initiative, aimed at rewarding the creativity of Portuguese people who had a significant role in the country's cultural and scientific life.
1989
A joint-venture is established with the Brazilian group Abril, giving rise to the birth of the first business magazine in Portugal – "Exame" –, marking the IMPRESA Group's entry into the magazine market.
1991
In March of 1991, Controljornal's share capital is open to external investors, creating a "super" holding – IMPRESA – that applies to the granting of the first private television channels, becoming one of the founding shareholders of SIC – Sociedade Independente de Comunicação.
1992
On July 18th, the Expresso starts being distributed with a plastic carrier bag to facilitate its transportation.
On October 6th, the broadcasting of SIC begins, the first private TV channel in Portugal, occupying the 3rd position in the channel grid.
1997
SIC Internacional begins its broadcasting on September 17th, with the aim of reaching the vast Portuguese community spread throughout the world.
On October 4th, the Expresso launches its website Expresso.pt.
2000
On June 6th, IMPRESA is accepted into the Lisbon Stock Exchange, becoming the first media group to be listed in Portugal.
GESCO is born - Gestão de Conteúdos e Meios de Comunicação Social, S.A. Its main activity is the integrated management of archives and documentation and information centers.
2001
On January 8th, SIC Notícias is born, the first 24 hour live news channel in Portuguese.
On April 23rd, SIC Radical is launched.
2003
On March 8th, a new thematic channel emerges: SIC Mulher, on International Women's Day.
On March 15th, the Expresso leaves its headquarters at Duque de Palmela Street, where it was born, to the current IMPRESA building.
The Boa Cama Boa Mesa brand is born, publishing an annual guide specialized in the production of contents about restaurants, hotels and leisure experiences.
On October 6th, SIC Esperança is born, a Private Social Solidarity Institution of public utility, transverse to all the IMPRESA Group companies.
The Olhares website is founded, an online photography community that's considered the world's largest Portuguese language photography website.
2006
On June 20th, Blitz changes to a magazine format.
GMTS is created, as a television technical service company.
2007
IMPRESA integrates a new brand into its portfolio: InfoPortugal, a technological company specializing in Geographic Information Systems (GIS) and Tourism and Leisure Solutions.
2009
SIC initiates the internationalization of its thematic channels.
On December 18th, SIC K is born.
2011
On November 21st, SIC's novela "Laços de Sangue" receives an International Emmy in the Novelas category.
2012
On July 23rd, IMPRESA announces a new management model for the group: Francisco Pinto Balsemão assumes the role of chairman and Pedro Norton is the new CEO.
2013
On December 6th, SIC launches its fifth thematic channel: SIC Caras.
2014
On May 6th, the Expresso launches the Expresso Diário, a daily online newspaper.
On November 17th, SIC creates a channel specifically dedicated to Portuguese speaking African children and families – DSTV Kids.
2015
In January, the Expresso creates the Expresso Curto, a daily newsletter.
2016
On March 6th, Francisco Pedro Balsemão assumes the executive leadership of IMPRESA, becoming CEO.
On April 20th, SIC novelas "Coração d'Ouro" and "Mar Salgado", conquer the gold and bronze medals, respectively, in the Telenovela category, at the New York Festival's World's Best TV & Films℠ award show, in Las Vegas. It's the first time that Portuguese telenovelas are finalists at this festival.
On August 12th, the Tribuna is born, a sports website under the Expresso identity.
In November, the SIM Startups IMPRESA para Media company is launched, an accelerator program for startups in the media area.
2017
On March 6th, SIC reinforces the sale of contents on the international market, launching the Content Distribution website.
2018
In January, Blitz abandons the paper format and becomes a digital platform inserted in the Expresso newspaper.
The IMPRESA Group sells its – "Activa", "Caras", "Caras Decoração", "Courrier Internacional", "Exame", "Exame Informática", "Jornal de Letras", "Telenovelas", "TV Mais", "Visão", "Visão História" e "Visão Júnior" – publications to the Trust in News society.
On September 17th, SIC Ventures is born, resulting from IMPRESA's bet on the diversification of its business areas and on new revenue streams, especially in the digital area.
On November 17th, DSTV Kids undergoes a re-branding, becoming Txillo.
2019
On January 5th, the Expresso starts being distributed with a paper bag.
On February 6th, the centralization process of all the group's brands and employees in one space is concluded: the IMPRESA building, in Paço de Arcos.
2020
On 7 July, Atelier IMPRESA was born with the clear aim of providing a service tailored to companies, developing communication strategies based on creative content.
On 24 November, a new way of watching SIC was introduced: OPTO. Always a pioneer, IMPRESA diversified its brand portfolio and focused on a streaming platform, providing a paid service and exclusive content.
On 18 December, a new SIC multiformat brand was launched, ADVNCE, with the aim of adding to and increasing the national e-sports and gaming community.
---
Click to read the website privacy policy (portuguese language)